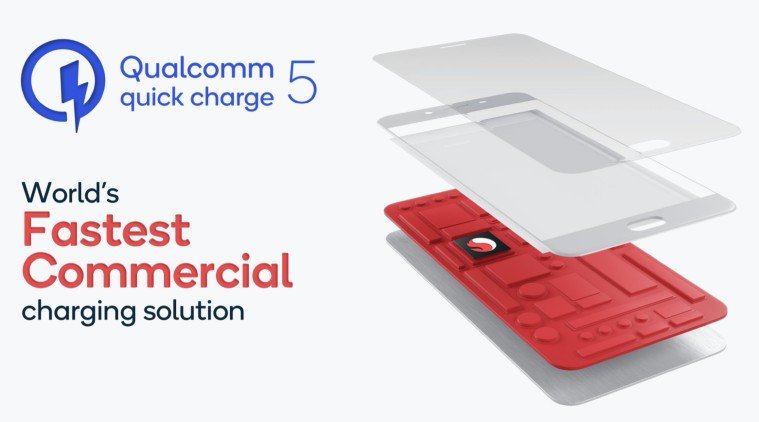 ---
Qualcomm has just released its latest fast charging technology – the Quick Charge 5. This new tech supports only the high-end Snapdragon chips and is the first 100W+ support for it. This is capable of juicing up an average battery from 0-100% in just 15 minutes.

Qualcomm has been at the forefront of the mobile chip-making business. Besides it, it's also developing embedded 5G modems and fast charging solutions for smartphones. The American company has today announced its latest fast charging technology, the Quick Charge 5.
Qualcomm's Quick Charge 5 can charge a battery up to 50% in 5 minutes
This new iteration is capable of 100W+ support, which is now the world's second-highest after Oppo's 125W input support. This is capable of charging an average battery of a smartphone until full, in just 15 minutes! While the first phase of juicing up, 0-50% is done is just 5 minutes, as claimed by the company. May this seems like overkill, but it's justified for future flagships.
Editor's Pick: Qualcomm Snapdragon 875 – Everything we know so far
Besides these, it's also having smart technologies like Smart Identification of Adapter Capabilities and Battery Saver features to increase the efficiency and extend its life cycle on a device. Also, it's capable of Dual/Triple charging and has INOV4 and adaptive input technology.
The current 100W charging is using the same layout of its previous 45W support.
Qualcomm says it supports 20 Volts of power delivery to 2S batteries and is 70% more efficient and 10° cooler than its predecessor, Quick Charge 4. Further, it's optimized to leverage the USB-PD and Type-C technologies and is also backwards compatible up to Quick Charge 2. But to take the full advantage of it, smartphones using the Snapdragon 865, 865+ and higher chips are eligible.
This new fast charging technology is open for OEMs to equip in their flagships, and we expect to see such high-end phones to be coming by this year's fall.
More to read: