Qualcomm, the company behind the Snapdragon processors has launched a new technology called Quick Charge 3+. Quick Charge is Qualcomm's proprietary technology and is crafted to support only those devices which run on Snapdragon chipsets. This tech is destined to juice up the battery faster than regular charging and save more time.
Quick Charge 3+ is an upgrade from its Quick Charge 3.0 and the superior version of this is Quick Charge 4 series. This new development is aimed at powering budget premium smartphones like handsets running on Snapdragon's 765 and 765G chipsets. It's capable of powering an empty battery to 50% in just 15 minutes and is 9°C cooler than its predecessors.
Also Read: ZTE unveils world's first phone with Snapdragon 865
35% Better Than Predecessors
Qualcomm is trying to make the charging experience better, as this latest Quick Charge 3+ is more flexible. Not just it's 35% faster than its predecessor Quick Charge 3.0, it supports on USB Type-A to USB Type-C cables and also on those adapters that can scale voltage with 20mV steps from Quick Charge 4. So premium devices with Snapdragon's 865 SoC with Quick Charge 4.0 can use adapters supporting Quick Charge 3+ with no worries.
Further, Quick Charge 3+ support wired/wireless charging and even reverse wireless charging. It's also backward compatible to older versions of Quick Charge, thus new adapters based on new versions can get still charge older devices. This new development supports two PMICs as SMB1395 and SMB1396 and don't need the use of OVP (Over Voltage Protection) chip, sense resistor and others.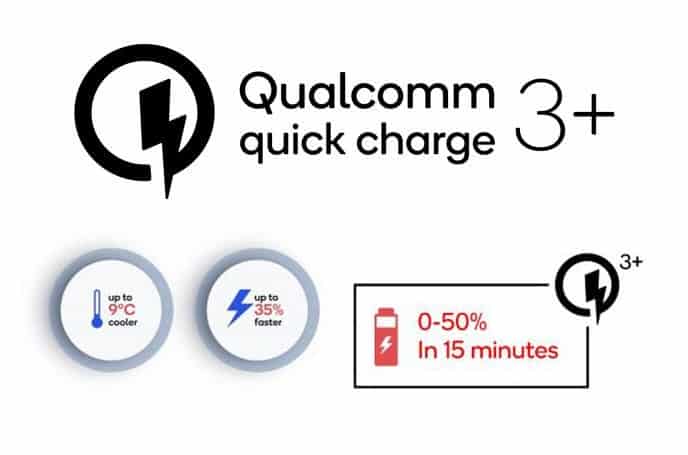 Few Now, More Later
There are various safety mechanisms to protect your device and it's capable of integrated cable power too. And as said before, Qualcomm says this tech will be supported by phones running on Snapdragon's 765 and 765G chipsets for now, and will be expanding support to other devices by the end of 2020.
As of now, Xiaomi's new Mi 10 Lite Zoom (also known as Mi 10 Youth Edition) which launched alongside MIUI 12 recently, supports this Quick Charge 3+. The handset supports both the Quick Charge 3+ and Quick Charge 4+. It's great to see Qualcomm helping those budget users to level up.
More to read: