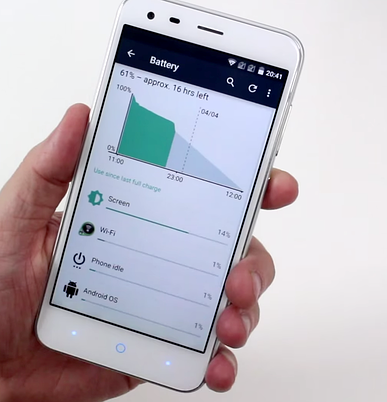 Nowadays smartphones have become so powerful that they could even run some of the high-graphic factor PC games without breaking a sweat. But still, they have the same size of the battery that were used a decade ago, to keep the form factor small and thin.
6 Tips to Boost Your Android Phone's Battery Life
Here we've listed some of the best battery saving tips for Android phones. You can follow these practices to get the extra battery backup.
1. Display
A smartphone's display is the most power-consuming part followed by the processor. Phones these days come up with a larger screen to body ratio, higher refresh and touch sampling rates, higher resolution, HDR10+ support, etc..
Display's Brightness plays an important role in a smartphone's battery life, so try to keep the display's brightness as low as possible. Our tip here is to avoid auto-brightness, adjusting the brightness manually would reduce the stress on your smartphone CPU which would lead to a better battery life.
Some of the latest smartphones come with a higher refresh rate panel, reducing the refresh rate to the usual 60Hz will significantly increase the battery life. Also, reducing the resolution of a smartphone's display to 1080p will also result in lesser battery usage.
Many would know this but, anyway, avoiding a live wallpaper would reduce the battery usage by the display, and if your smartphone has an AMOLED Panel try to use a static Amoled wallpaper.
Also Read: How to root Android phone
2. Temperature
Your smartphone's temperature shows the stress faced by the CPU and battery, higher the temperature, higher the battery consumption. So try to keep your smartphone's temperature as low as possible.
Lesser battery temperature will also ensure the battery's longevity. Our tip here is try not to use your smartphone in direct sunlight, because it causes abnormal temperatures to show up.
3. Apps
We all know that apps running in the background of your smartphone consume RAM, it also consumes battery significantly. But it's not recommended to clear all the background apps, because your frequently used apps such as phonebook, message, WhatsApp, etc.. consume power each and every time you open it freshly. So try to keep your frequently used apps in the background.
Playing graphic intensive games such as PUBG Mobile would drain your battery like a sports car, so try to avoid playing games if you want the highest battery backup from your smartphone.
Apps that use your real-time location, Bluetooth in the background will drain your battery at a rapid rate. Social media apps such as Facebook, Instagram, WhatsApp, Twitter, etc.. that tries to give you pop-up notification would somewhat run in your background even though if it is not in RAM. So switching off pop-up notification would help you save battery.
Uninstalling the unused app will also help you save a little bit of battery, and try to use lite apps instead of the usual heavy apps. For ex. Facebook Lite is a very little sized app, so it consumes less storage in your smartphone.
It also has no animations in the app so it reduces the work-load on your CPU. Using Lite apps will give your smartphone better storage and better battery backup, try using this trick as often as possible.
4. Carrier Services
In some areas, we face bad signal strength, lower the signal strength, higher the workload on your smartphone. Your smartphone would constantly try harder to connect to your nearby tower in order to keep the signal strength as high as possible, this would consume your smartphone's battery a lot.
In these type of situation, you wouldn't be able to get higher internet speed and superior call quality. But there are many solutions for this issue:
You can use a VPN to change to various servers and get better signal strength and internet speeds. But you need to use each and every server and figure out which is the best server in your surrounding.
You can use any speed test app, we recommend using SpeedTest by Ookla. In this app you can change to the nearby tower in which your smartphone is connected to, this helps to gain signal strength.
This is the most simple trick, turning airplane mode on and off will force your device to change to the nearest tower that has the highest signal strength. I often prefer this trick as this is the most simple and one of the effective ones.
Using the above tricks would give your smartphone better internet speed, call quality, signal strength, and also provides better battery backup.
5. Home screen Setup
Using a heavier Home Screen setup with weather information, third party widgets such as KWGT, and live wallpapers would consume power. Using stock widgets and static wallpapers will provide better battery backup and also avoid weather information.
6. Assistant and AI features
Using Voice-activated searches, realtime 'Ok Google' voice recognition will always be running in the background looking for your voice, so this feature uses a considerable amount of battery. Turning them off would help in conserving the battery power.
AI features such as face recognition in the Photos app, sorting out files, and apps using AI features would add up the weight on your phone's CPU & NPU. Try not to use unwanted AI features that the manufacturers stuffed in your phone as these are mostly useless and power-consuming.
More to read: