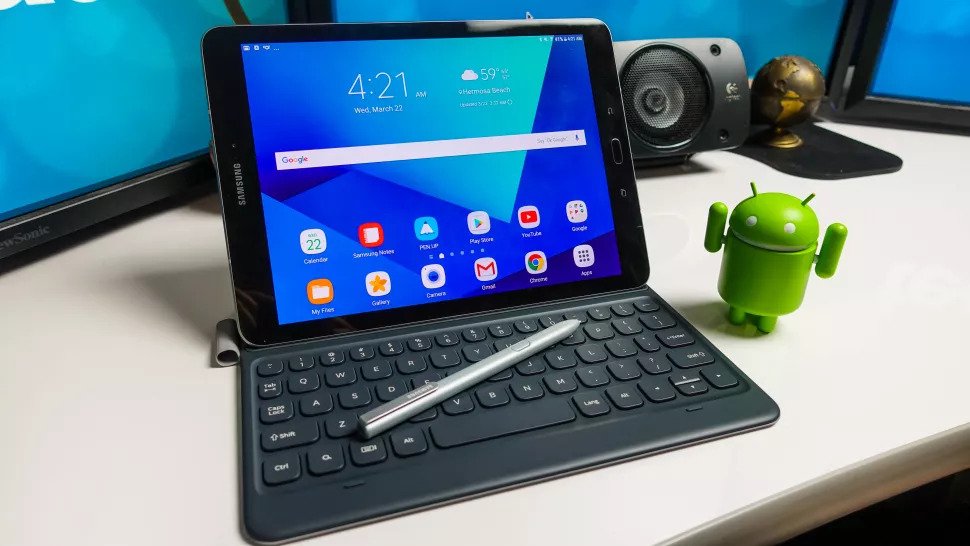 Android Tablets are a great alternative to Apple's iPad. In some cases, people can also use it as an alternative to their compact laptop. It depends on their usage. The Tablets are usually based on mobile platforms and have the capability to work as a laptop.
So here are 5 Best Android Tablets to Buy in 2021
How Tablets are different from Laptop
Tablets are usually for lite users. For those who want to watch videos and do lite photo editings. Or to create contents and write articles or posts. The tablets are of great use if you have any of the above-mentioned uses.
As tablets are compact in size and are lite in weight so they are very much portable. They have large batteries which can go through two days or even more one full charge it depends on the usage.
With the newer advanced versions of Android these tablets now have the full support of HDMI and wireless mouse or keyboard. Rather in Some cases, you can even buy a keyboard folio book cover for the particular tablet.
5 Best Android Tablets in 2021
So below we have filtered out the top 5 Android tablets which you can consider buying in 2021. We have also added their features and prices for your ease in choosing one.
1. Samsung Galaxy Tab S6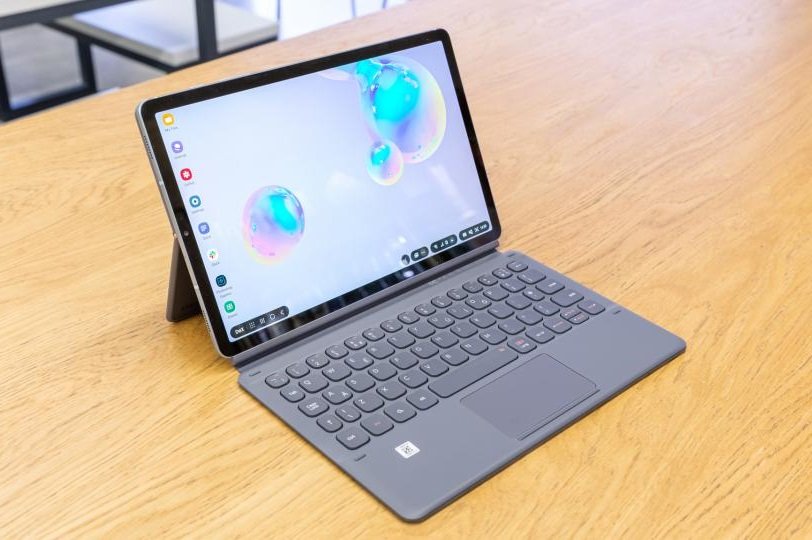 The first in list of top 5 Android tablet is the Samsung Tab S6. Samsung is one of the few brands which are still making tablets based on Android and are actually a worthy competitor or alternative to iPad.
The Samsung Tab S6 was launched in 2019 with top of the line specifications like Snapdragon 855 coupled with 6GB or 8 GB of RAM and 128 GB of storage. The tablet has a super AMOLED display of 10.5-inches with a resolution of 1600×2540 pixels. There's an in-display fingerprint scanner along with face unlock.
The screen also supports HDR 10 certification. The tablet also has a quad-speaker system tuned by AKG which happens to be the best speakers in a tablet. The tab S6 weighs around 420g and has a battery of 7040 mAh which can last two days of extensive usage.
Editor's Pick: 5 Best Custom ROMs for your Android phone
The best part of Samsung Tab S6 is the Samsung DeX and the S pen that comes with the tablet. The Samsung DeX gives a laptop-like experience on your tablet, where Samsung tried to replace the laptop and in a way they did it very well. The tablet comes in two variants one is WIFI only and the other one is with 4G compatibility.
Samsung has also given an optional accessory which is a book keyboard folio cover. The cover has a built-in keyboard and a trackpad that completes the full package of a laptop replacement. The tab comes with dual cameras consisting of a wide-angle lens and a normal 13-megapixel camera.
Also, the S pen which snaps at the back of the Tab S6 is a Bluetooth powered pen that can work as a remote to click photos or change slides or even play/pause music. Users can even draw and edit using the S pen making the task easy and more intuitive. The Galaxy Tab S6 comes with a price tag of $649.
2. Samsung Galaxy Tab S5e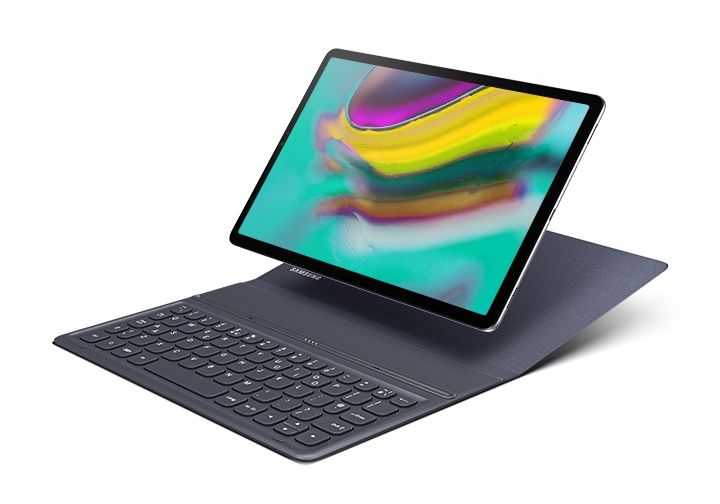 Samsung launched a budget tablet back in 2019 called as Samsung Galaxy Tab S5e. This tablet has almost all the bells and whistles from the Tab S6 but at a budget price. The tablet has the same 10.5-inches of super AMOLED display with a resolution of 1400×2560. It has a similar battery of 7040 mAh.
The Galaxy Tab S5e runs on Snapdragon 670 chipset coupled with 4 GB of RAM and 64 GB of storage with a memory card slot. This tab also has a quad-speaker setup which is tuned by AKG and happens to be equally loud as Tab S6. It has a power button on the side which doubles as the fingerprint and it also has the face unlock for security.
Galaxy Tab S5e also has an optional accessory, the keyboard book folio cover which is a cover and doubles as a keyboard, unfortunately, it misses the trackpad from Galaxy Tab S6. Users can still connect a wireless Bluetooth mouse and can use it along with Samsung DeX to get a laptop-like experience while editing your documents or surfing the internet.
The Galaxy Tab S5e is a very good deal for 450$ if you have a lite usage and want to watch videos and surf the internet. The tab S5e also supports Samsung DeX out of the box. It runs on Android 9.0 Pie and Android 10 update for tab s5e is round the corner.
The tab S5e comes in two variants Wifi only and 4G compatible. The budget tablet misses out some of the features from Tab S6 like the HDR certification, the S pen, and a powerful processor.
3. Huawei MatePad Pro 5G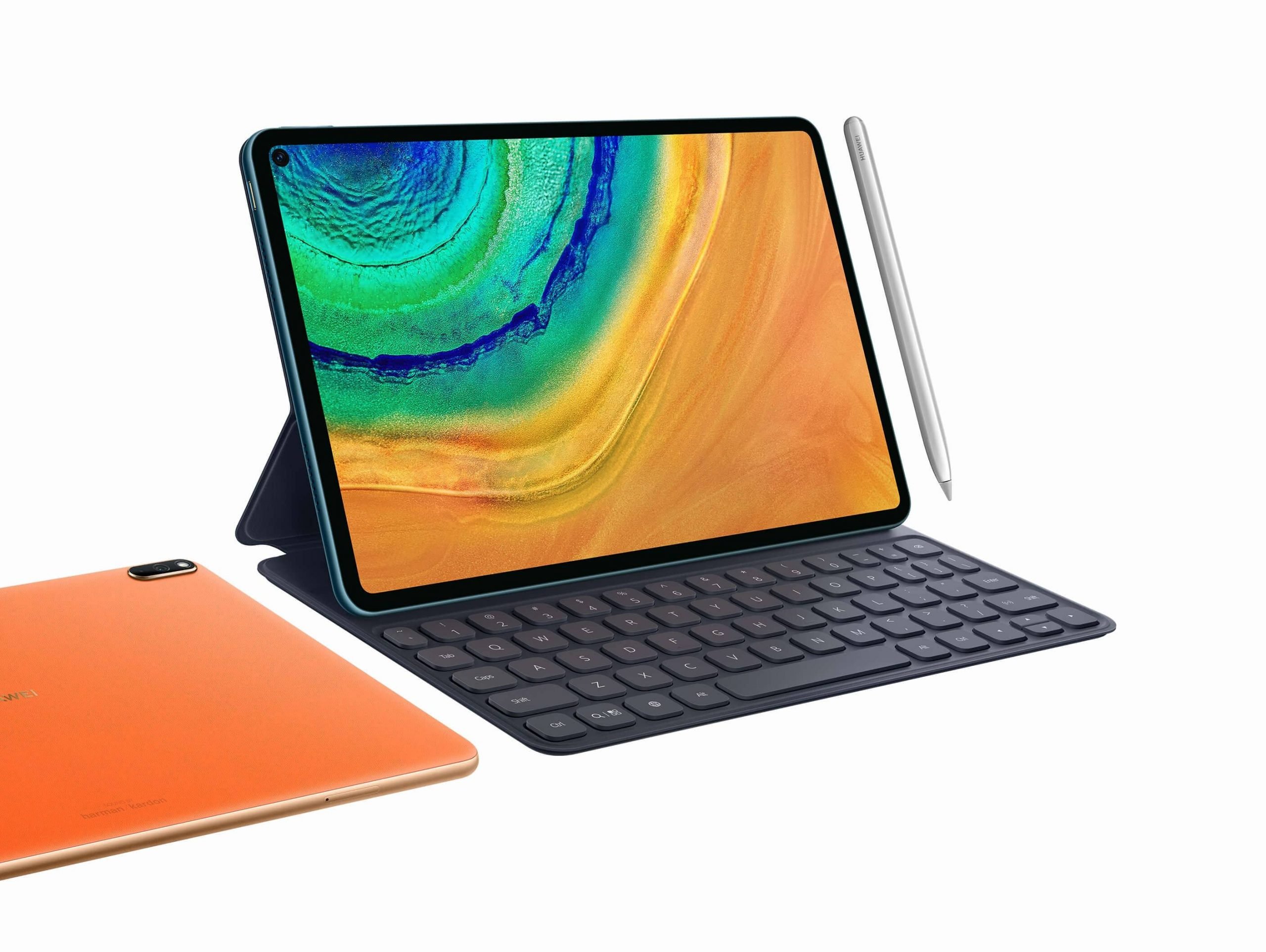 The Huawei MatePad Pro 5G was launched recently in April 2020. This tablet is the latest one in the list of best Android tablets. The Huawei MatePad Pro runs on Hisilicon Kirin 990 chipset along with 6GB or 8 GB of RAM and it has storage options up to 512 GB.
The tablet has a thickness of only 7.2mm and weighs around 420g only. It has 10.8 inches of an LCD screen with a resolution of 2560×1600.
The tablet runs on Android 10 based on EMUI 10 out of the box. The tablet features wireless charging and reverse wireless charging as well. This is a first-in-class feature. The tablet has 7250 mAh.
Additionally, it has split-screen options and other EMUI features. The catch here is that Huawei doesn't ship their devices with Google Play services so you have to stick with Huawei's App store instead of Play store.
The Huawei MatePad Pro also comes with its own folio cover which also doubles as a keyboard. The tablet also has an S pen-like Pen which works seamlessly with Huawei MatePad Pro. The tablet is very powerful when it comes to productivity and consuming media.
The MatePad Pro also has an edge to edge display along with a punch-hole front camera making this also a first in class feature. The Huawei MatePad Pro comes with a quad-speaker setup giving a loud and clear sound with punchy bass. The Huawei MatePad Pro comes with a starting price of roughly 500$.
4. Samsung Galaxy Tab A 10.1 (2019)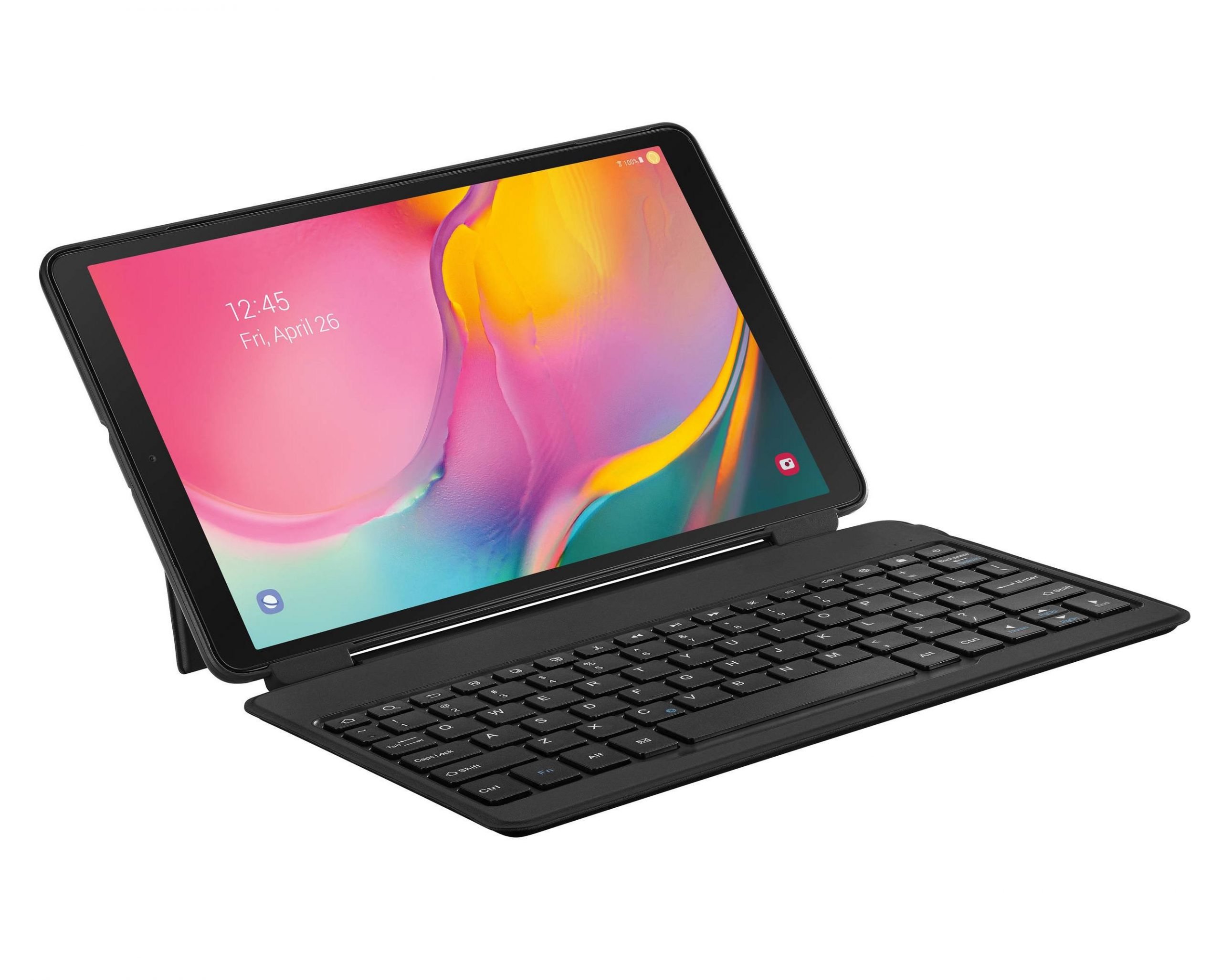 If you have a really low budget like around 250$, then this is the best budget Android tablet. Samsung Galaxy Tab A 10.1 is the best option you can get. The Samsung Galaxy Tab A 10.1 was launched in 2019 and has all the budget features while giving you a true tablet experience.
The Tablet runs on Exynos 7904 coupled with 2GB or 3 GB of RAM and has storage from 32GB up to 128 GB along with the support of MicroSD card. It has a screen size of 10.1-inches with a resolution of 1200×1920 pixels.
The Samsung Tab A 10.1 has a battery size of 6150 mAh. Samsung claims that the tab can have 13 hours of video playback. It weighs around 469g. The Tablet runs on Android 9.0 based on One UI.
It also has a 3.5mm headphone jack. The tablet has a stereo speaker with Dolby Atmos which is powerful enough to be loud and clear. The Samsung Tab A 10.1 comes with an 8-megapixel shooter that supports 1080p video recording as well.
5. Lenovo Tab P10
Lenovo Tab P10 was launched in September 2019 with a price tag of $150. The Lenovo Tab P10 is powered by Snapdragon 450 coupled with 3GB or 4 GB of RAM and has a storage of 256 GB. The tablet's key feature is that when it is put to dock, it becomes Amazon Echo Show which is Amazon's Alexa powered photo frame kind of display. It is much like what Google's Ambient display. The tablet runs Android 8.0 Oreo out of the box.
Lenovo P10 has a four-speaker setup with Dolby Atmos support. It is very much compact despite having 10.1-inches of display. The tablet is having around 7000 mAh of battery which can last more than a day easily. The Tablet comes with 4G and Wifi support to give you connectivity anywhere in the world.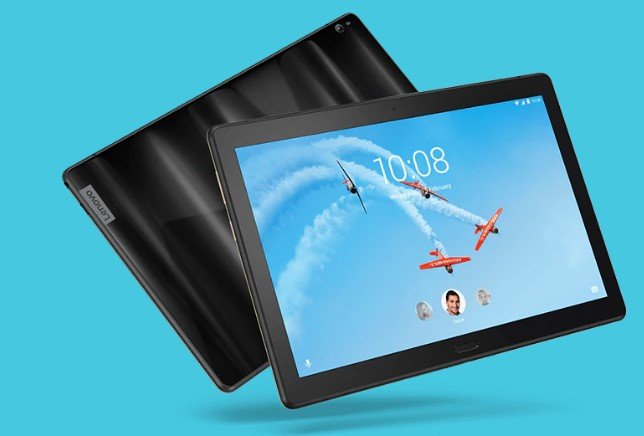 Conclusion
To conclude the above list of 5 best Android tablets in 2021, our best pick is Samsung Galaxy Tab S6. Also, there are a few upcoming tablets as well like the Samsung Galaxy Tab S6 Lite and Mi Tab 5.
The honorable mention goes to Pixel slate and Mi Pad 4 Plus.
More to Read: