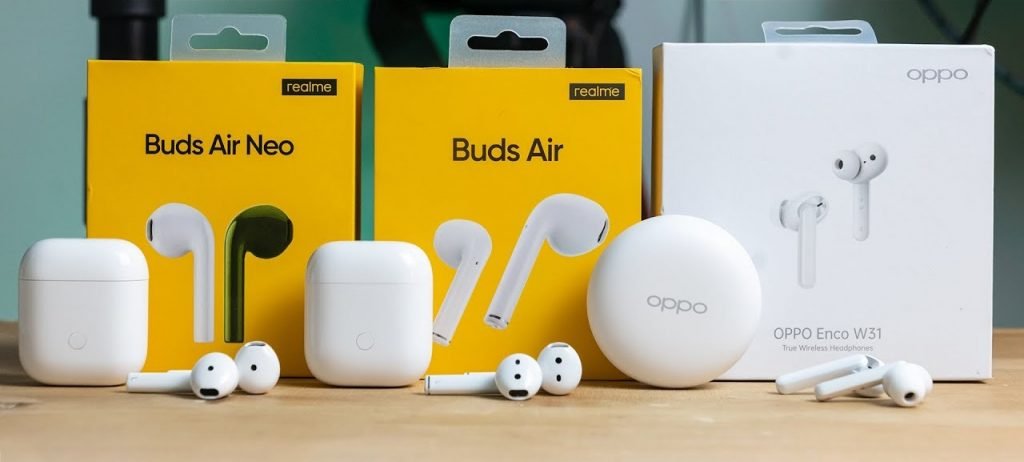 ---
The new plague among smartphone brands is the urge to remove headphone jacks from their phones. This is mainly because of two reasons. First, because everyone has to follow each other and since one brand removed the headphone jack and got away with it, every other OEMs are just doing that.
Second, they want to sell their own wireless or true wireless earbuds. So in this aggressive competing market of innovation and pricing here are the best true wireless earbuds under 5000.
10 Best True Wireless Earbuds Under 5000
These earbuds are truly wireless and don't come with any kind of wires. The budget segment of the TWS (True Wireless Solution) earbuds offers very much value for money since the big brands like Apple and Samsung have their true wireless earbuds priced above Rs. 10,000.
So, here is the list of 10 best TWS under 5000.
1. Oppo Enco W31
Oppo has always been an innovative brand and it is one of the first brands to bring the TWS earphones in a budget pricing. The Oppo Enco W31 is a piece of art. It has Bluetooth 5.0 with a low latency mode. Dual microphone for better noise cancellation while on calls.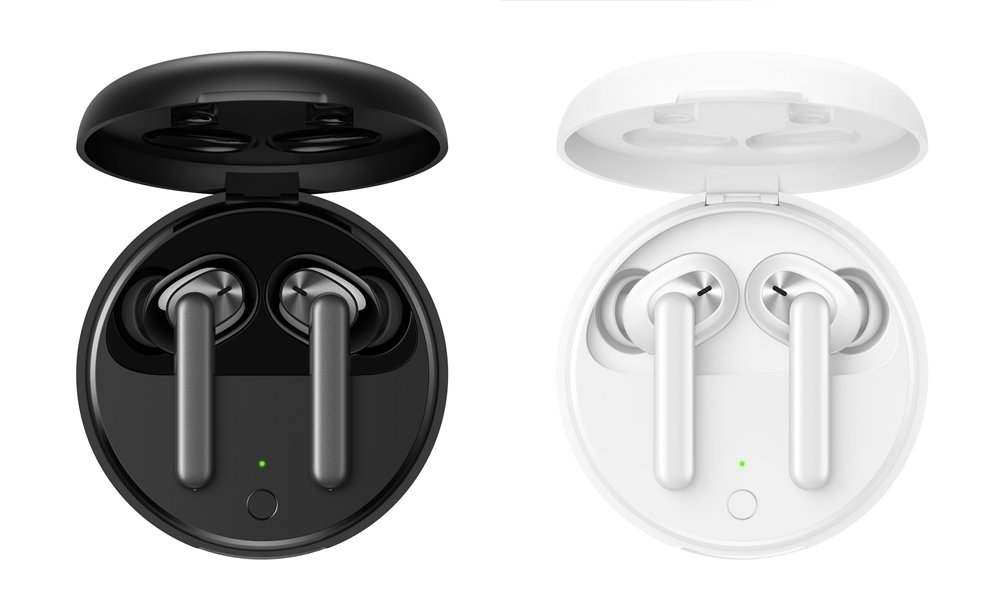 The earphone also features a bass mode and balanced mode of equalizer options to choose from. The earphones are compatible with both Android/IOS devices.
The earbuds also feature touch controls like a double-tap on the left side to change the audio mode, double-tapping on the right will skip to next track and triple tap on either side to activate voice assistant. The Oppo Enco W31 also features IP54 dust and water resistance which makes it durable as well as reliable.
Oppo claims up to 15 hours of music playback with charging case and 3.5 hours without it. Overall it has a very good solid build quality for the price Oppo is asking. This Oppo Enco W31 comes with a price tag of approximately Rs. 3,499.
2. Mi True Wireless Earphones 2
Xiaomi has been a very well known brand for launching the good quality products in budget pricing. The Mi True Wireless Earbuds 2 is no exception with its large 14.2mm driver and its everlasting 14 hours of battery backup with the case.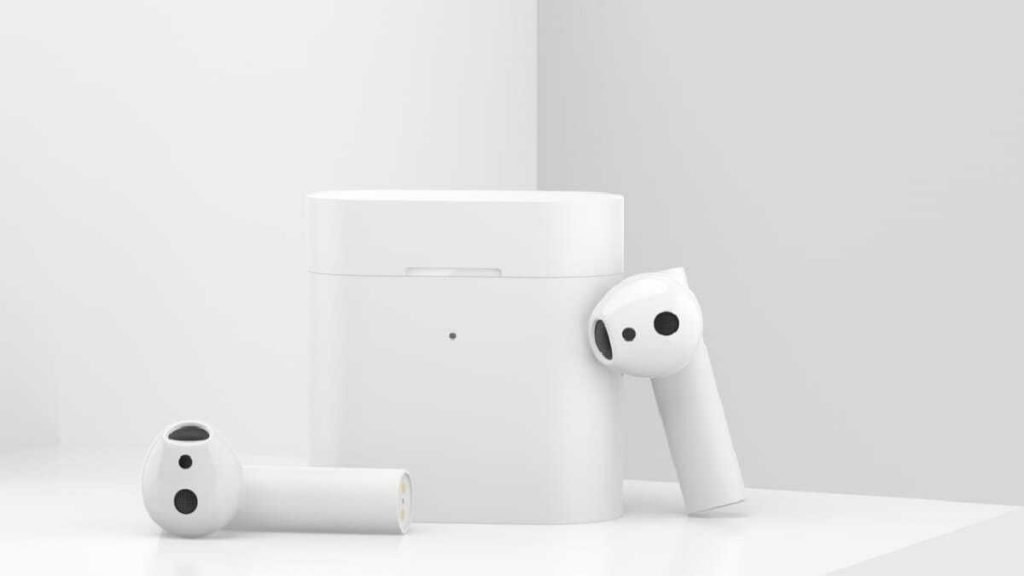 The earbuds are just exceptionally good for its price. Xiaomi seems to be using a powerful neodymium magnet that ensures brilliant sonic accuracy and gives overall a good listening experience. With the added Bluetooth 5.0 for faster connectivity and low latency is just a bonus.
There is also a Smart in-ear detection powered by infrared sensors that let detects when you take off earbuds & pauses the music. The wireless earbuds 2 are compatible with any Android phones in the market. The earbuds also come with dual noise cancellation microphone for better calling experience. Mi Tru Wireless earbuds 2 is priced at Rs. 3,599.
3. Realme Buds Air
These budget-friendly true wireless earbuds are one of the best to choose in this segment. It has almost all of the features that a high priced true wireless earbuds have. For starters, it looks and feels very premium especially in white color, though it comes in black and yellow as well.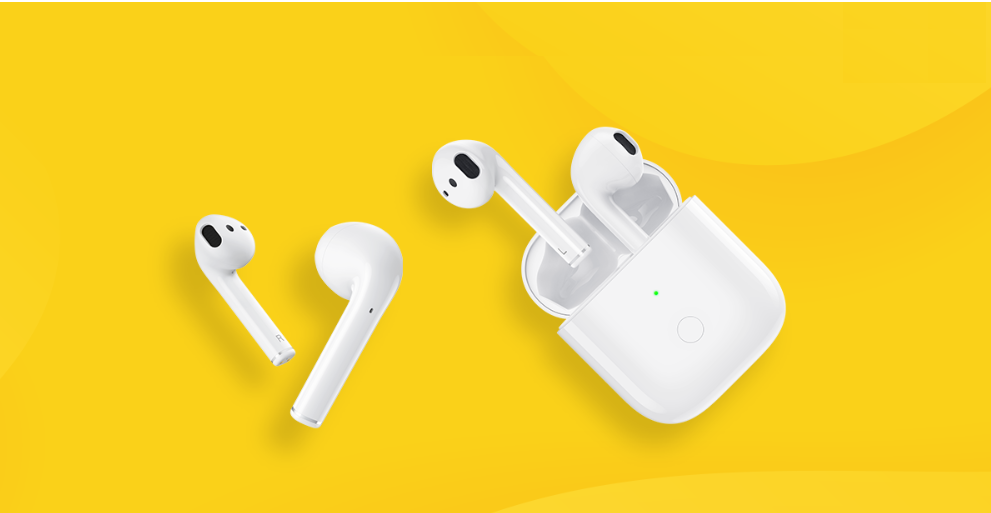 The Realme Buds Air also supports Qi wireless charging alongside wired type-c charging. The buds have a built-in R1 chip for headphones which gives overall better user experience.
There DUAL microphones on board for calling along with ENC(Environment noise cancellation) along with Bluetooth 5.0 for faster connectivity. The Realme Buds Air is priced at Rs. 3999.
4. Realme Buds Air Neo
Another good true wireless earbuds by Realme is the Realme Buds Air Neo. It is slightly more budget-friendly than the buds Air. These earbuds miss out some features along with budget pricing while giving out the outstanding sound experience.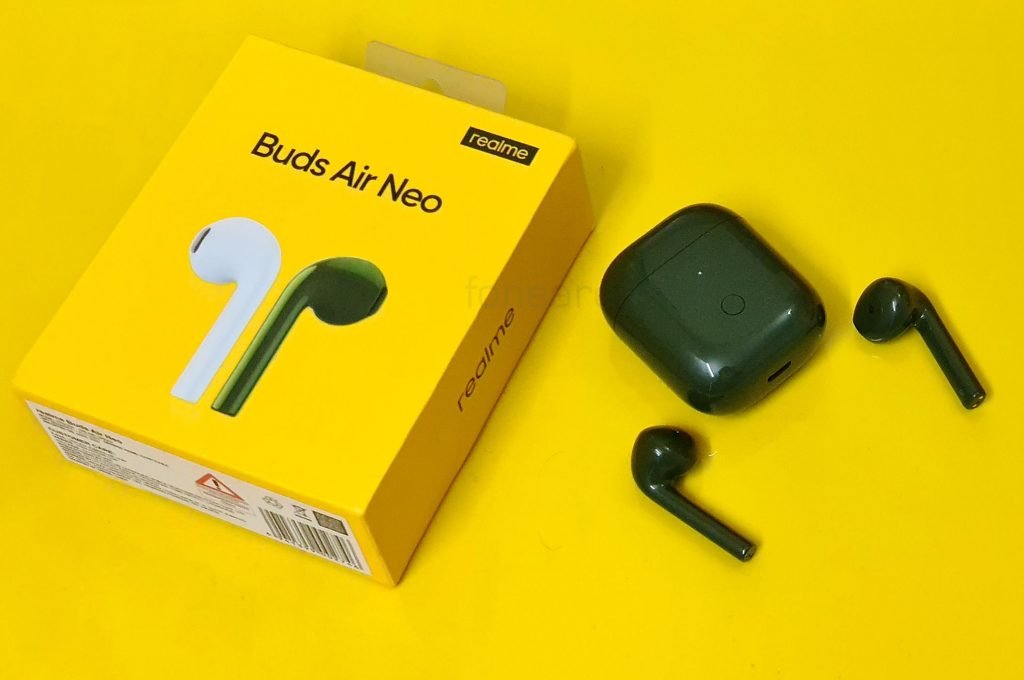 The Buds Air Neo features large 13mm sound driver to give good quality sound while claiming 17 hours of playback time on a single charge with the case. The Buds Neo also features gaming mode which enhances the low latency mode in the earbuds.
There is an R1 True Wireless Chip uses a new generation of dual-channel transmission technology, creating a fast and stable connection between your phone and your Realme Buds Air Neo. It also has a one-touch button to access Google Assistant right from the buds. The Realme Buds Air Neo is priced at Rs. 2,999.
Also Read: Best phones under 10,000 in India
5. JBL C100 TWS
JBL a well-known sound engineering brand has launched true wireless earbuds in a budget segment. Though they have high-end true wireless earbuds, the JBL C100 True wireless earbuds under Rs. 5000 (~$65) is one of the best choices. The earbuds have Bluetooth 5.0 for faster connectivity and stable streaming experience.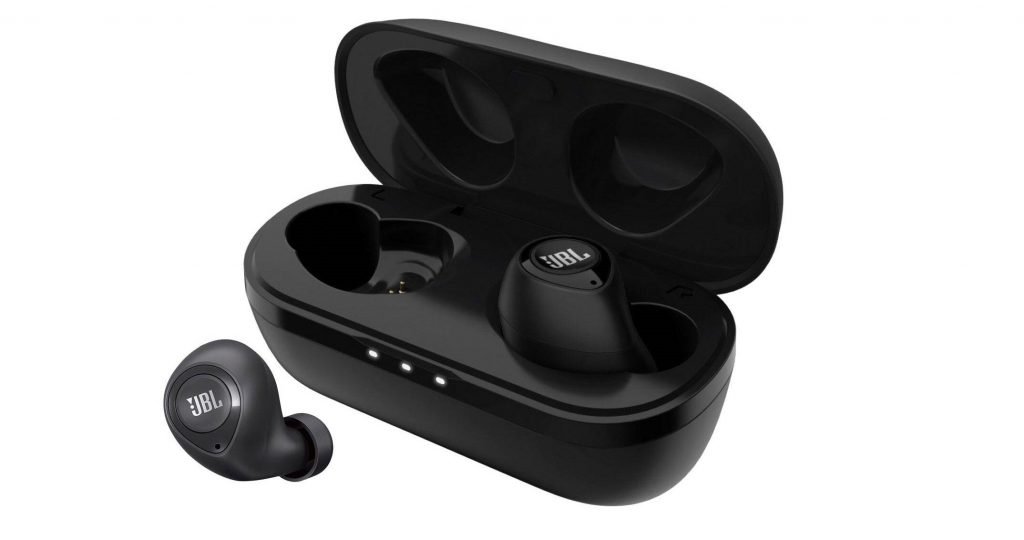 JBL C100 comes with fast charge where you can charge it for 15 mins and get 1 hour of playback time. A full charge will last for 5 hours of playback and 12 hours with charging case.
6. Noise Shots X5 Pro
Noise shots X5 pro is a very good value for money true wireless earbuds. The key feature of the shots X5 pro is the battery backup. Noise claims 8 hours of playback on a single charge and with charging case, it gives insanely 142 hours of backup which in total makes it 150 hours of battery backup.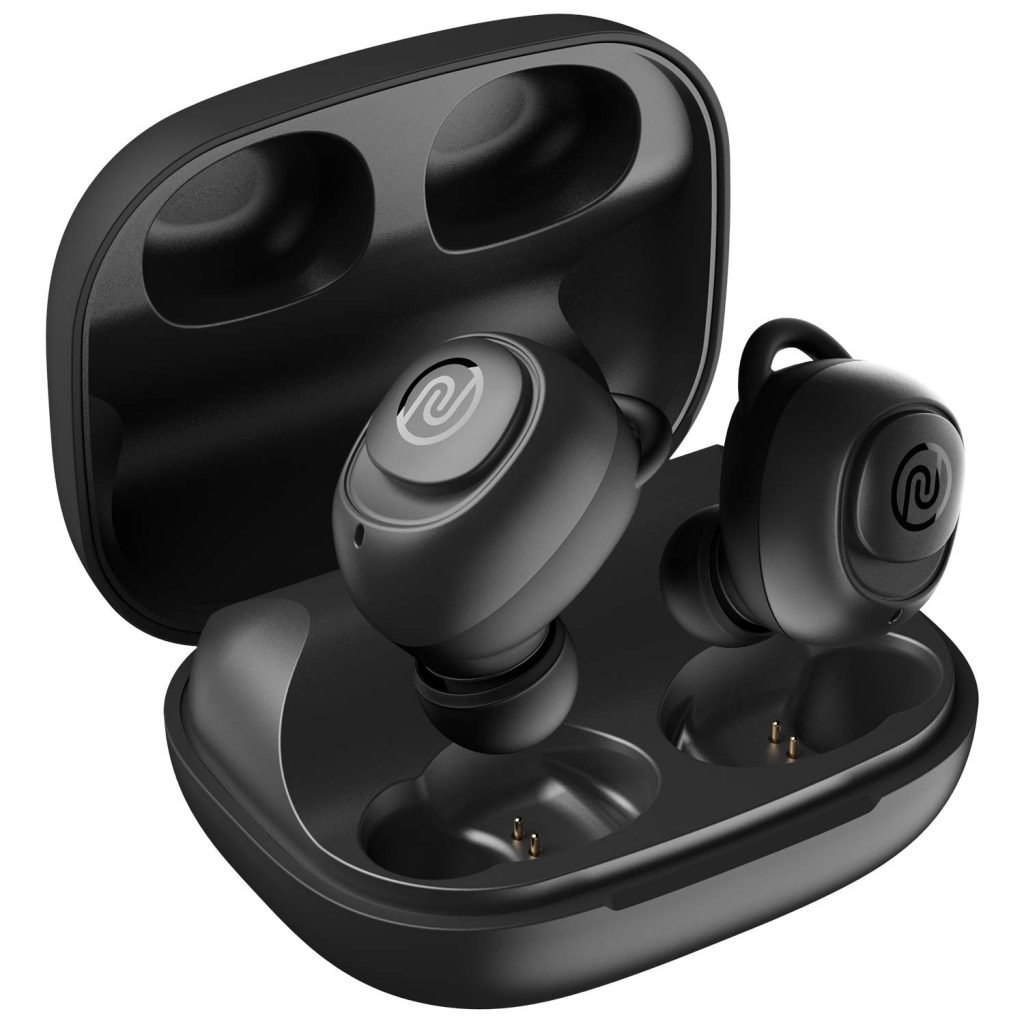 In fact, you can even charge your phone through the case of these earbuds which have 2200 mAh of battery inside them The earbuds also have Graphene speaker drivers and support for advanced AptX and AAC codecs. It also has touch controls for music playback, calls as well as assistant services.
The Shots X5 pro can be charged via wired Type -C cable and it also features IPX7 water resistance which helps in durability and gives a peace of mind. The Noise Shots X5 Pro costs Rs. 4,999.
7. Motorola Verve 400 TWS
Motorola has launched its true wireless earbuds in a very innovative way with its magnetic case. The earbuds are very much sleek from the design perspective and it looks very much elegant and premium. The buds can last for 3 hours on a single charge and can get an additional 6 hours of charge using its case.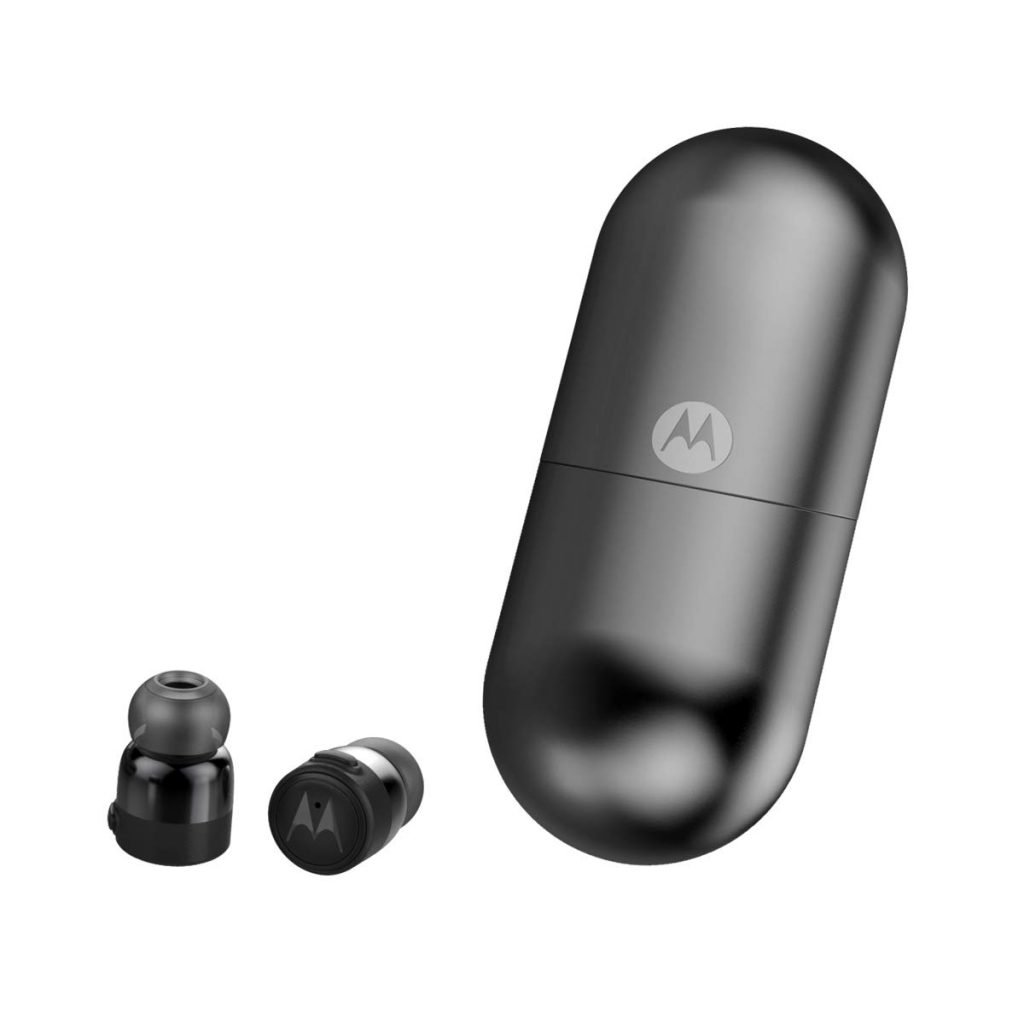 The Motorola verve 400 TWS comes with IPX6 water resistance, it means you can take it along with you while jogging or gym sessions. It also features noise reduction and Bluetooth 5.0 for seamless connectivity. The Motorola Verve 400 TWS comes with a price tag of Rs. 4,999 (~$67).
8. Skullcandy Sesh Truly Wireless Earbuds
Skullcandy is one of the oldest companies which have been consistently making a good pair of earbuds. This time they have come up with new truly wireless earbuds the Skullcandy sesh truly wireless earbuds.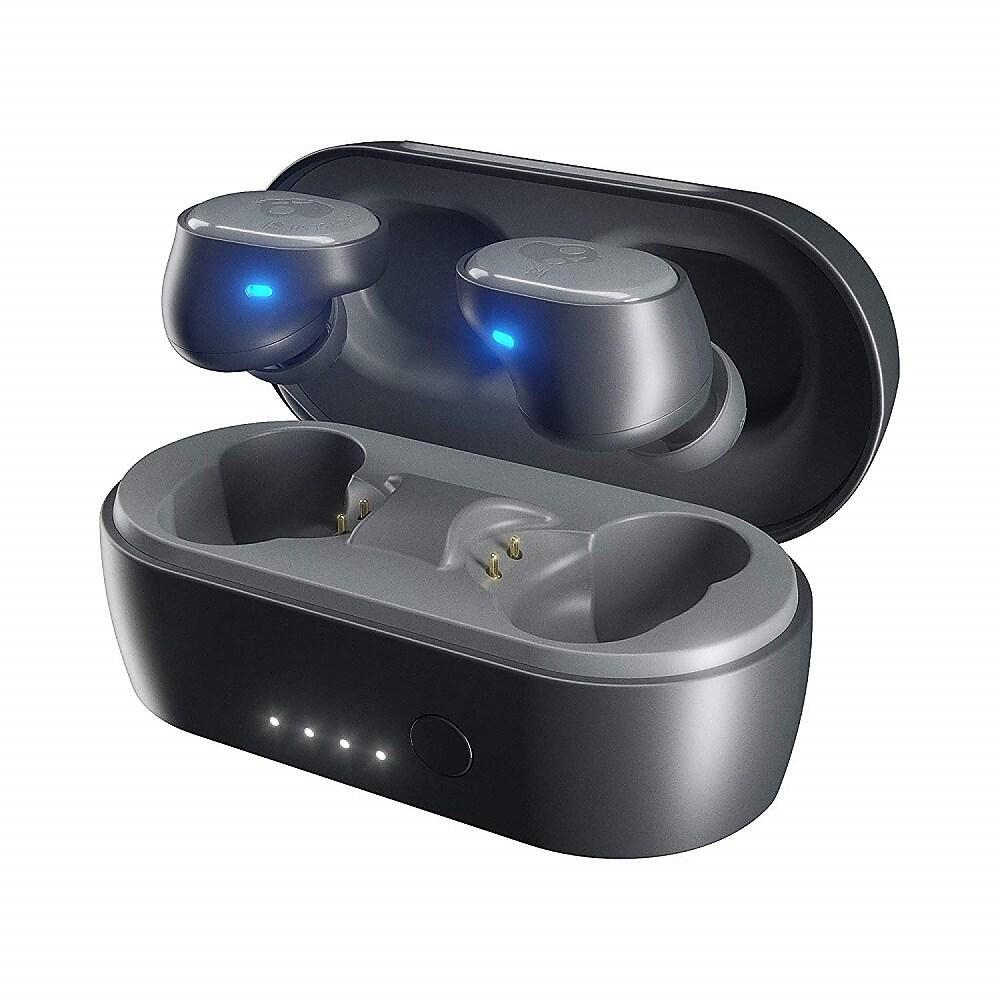 These buds are aesthetically very nice and just like others, it comes with a charging case as well. Skullcandy claims to have 10 hours of playback along with charging case.
The earbuds are said to be IP55 sweat, water and dust resistant making it a perfect fit for gym sessions. It can be charged via micro USB cable and comes with 3 sets of ear gels. The Skullcandy Sesh Truly wireless earbuds are priced at Rs. 3,999.
9. Philips SHB2505BK True Wireless
Philips have ramped up their earphones market by launching new true wireless earbuds. With the latest launched, Philips SHB2505BK true Wireless earbuds is a very great set of earbuds. It has rated 5 hours of battery backup and with the case, it goes up to 20 hours and charges in around 2 hours.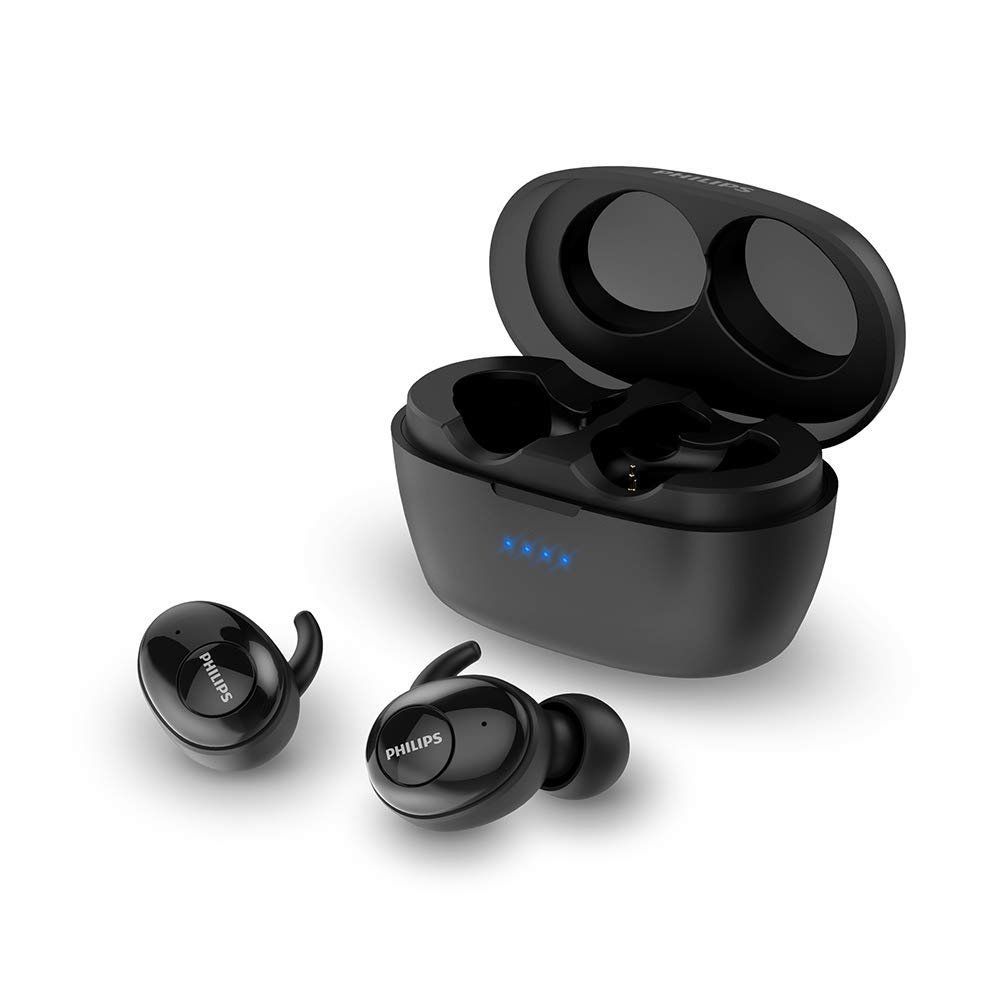 The earbuds have Bluetooth 5.0 for good and stable connectivity also there is a Mono mode so that you can use only one earbud for calling or listening to music.
The earbuds have 6mm of the sound driver and come in a case to charge itself. They also come with a pair of extra rubber silicone gel tips for a more secure fit. For a lite user for listening to music and some calls, these earbuds are good to go with the price of Rs. 5000.
10. Noise Shots Rush True Bluetooth Wireless Earbuds
Noise shots Rush True wireless buds are a bit above the league from what others are offering. They are sports styled extended ear hooks over the ear true wireless buds. The earbuds have 12mm speaker drivers and are very well-tuned for deep and clear bass. They also have a low latency gaming mode that helps in playing games like PUBG Mobile.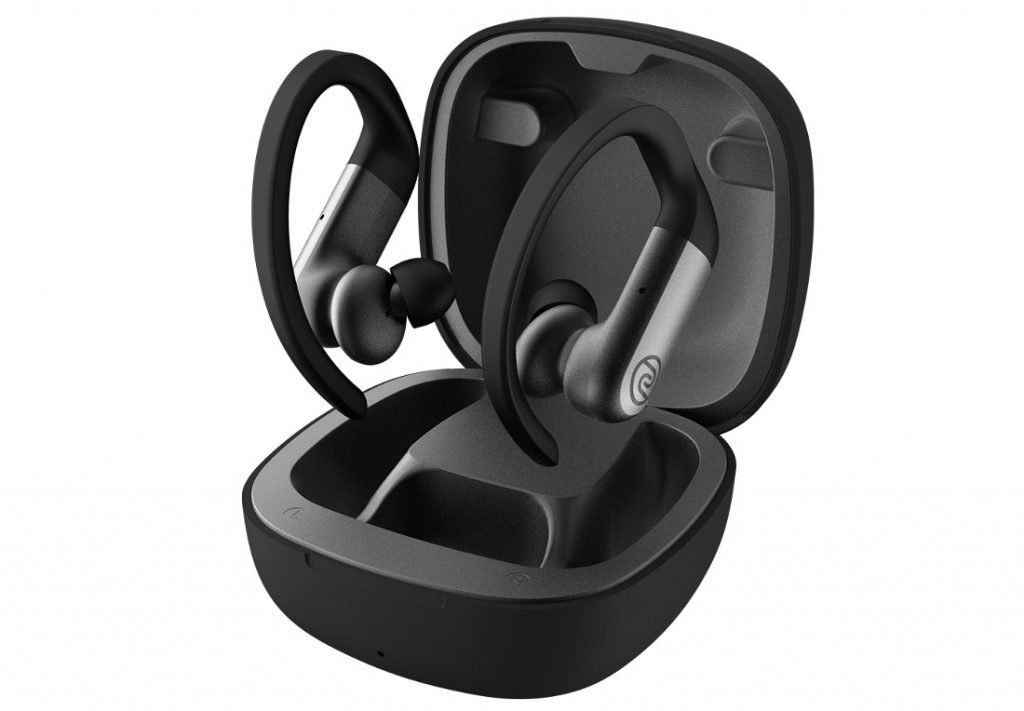 There is even 3 EQ modes to choose from depending on your taste of music. The noise rush also have full touch controls that les you control music playback and volume controls. They offer a decent 6 hours of battery backup and with the case it gets up to 24 hours of backup which is very good. The Noise Shots Rush can be bought for Rs. 3,499.
Our Verdict on the Best True wireless earbuds under 5000
Well, all of the above-mentioned earbuds are very much good in terms of quality and durability. But if we have to pick one from the above list of 10 best TWS under 5000, our pick would be the Realme Buds Air because of its solidly built, premium feel and wireless charging as well.
---
More to read: