After all the things you're doing to pass time amidst lockdown, have you tried Google Doodle games yet? Google found the best way to entertain users at home with its simple Doodle games, retrieved from archives.
The California-based search engine giant has brought back popular Google doodle games with the catchphrase 'Stay and Play at Home' as a measure to motivate users to stay to restrict the spread of coronavirus.
The company has announced to be setting one game a day for two weeks starting from 27th April 2020. This is aimed to cure the boredom users feel by staying at home due to Coronavirus lockdowns. Google's bring back some best doodle games from its past so that you play until you're bored again.
Related: Google planning its own chipset for future Pixels phones
On 27th April, Doodle blog post read, "As COVID-19 continues to impact communities around the world, people and families everywhere are spending more time at home. In light of this, we're launching a throwback Doodle series looking back at some of our popular interactive Google Doodle games!"
So if you're interested in trying some, we recommend our best 5 games from past: Browse them through Doodle Archives to find and play.
Solving this multi-color cube is always difficult, physically, or virtually.
It's evergreen. Pac-Man is one of the best classics one can play on Google doodle.
Guide the pangolin throughout the city to deliver a mail. This was made in 2017 on the occasion of Valentine's day.
Celebrating the 100th anniversary of crossword puzzles in 2013, Google's puzzles are interesting and time killing.
Using just your spacebar, shoot balls into the basket and beat your friends' score. This free throw game from 2012 is the best time pass for curing work pressures.
Google has also provided the Keyboard shortcuts to play Google Doodle with ease.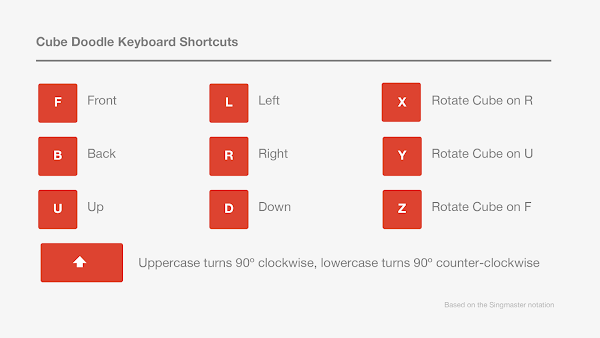 The ongoing pandemic has given rise to many remote working softwares like Zoom, WebEx, Microsoft Teams, etc, but finding a replacement for outdoor sports is hard. Though we cannot replace such physical sports at all, playing some simple indoor games in the form of doodles is worth trying.
Unlike Xbox or Playstation, these games don't require any additional hardware gears as joysticks or consoles. A general keyboard and mouse (on a computer) or your fingers (on a smartphone) are enough to pass time without realizing your surroundings.
If you're starting now, Coding for Carrots is the game set for today. Head over to Google to play the carrot collecting game, which was made first in 2017 noting the 50th anniversary of Logo programming language, meant for kids.