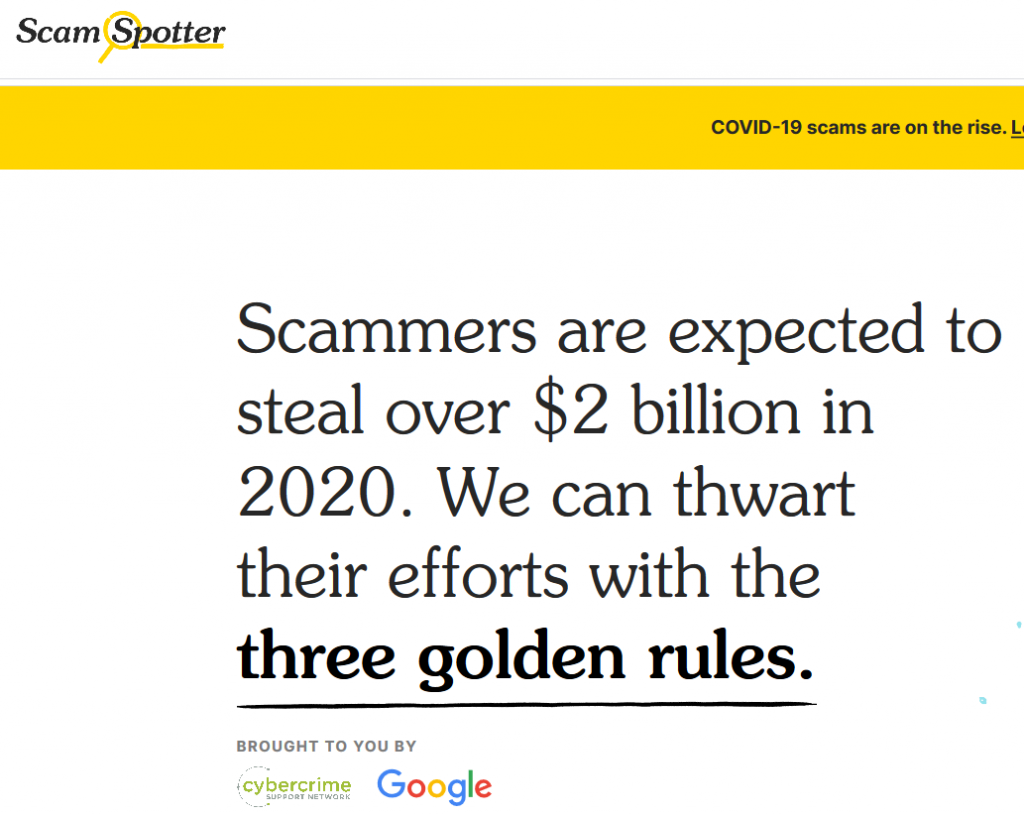 As the world of the internet has been rapidly getting bigger with a vast amount of contact-less communication, thus, leading to the rise of online scams as well. Although, people like us who know about the internet have the knowledge to find out scams but there are few people who may not have adequate knowledge regarding "Online Scams", therefore they fall prey to the online tricksters.
So, to reduce such scams, Google launches its new Scam Spotter website which fully aims to help people to avoid online scams going in and around the world of the Internet, especially during the COVID-19.
Scam Spotter from Google – What is it all about?
Scam Spotter is not just only a tool for the users, but instead, the platform also takes up the role of an Educational Platform as well.
Through this platform, users can also get the knowledge on Scam Spotting. This became possible after Google made a partnership with a Cybercrime Support Network.
Related: Google Lens can now copy and paste handwritten text from paper to PC
Scam Spotter from Google – What will you find on the website?
Well, as soon you get into the homepage of Google's Scam Spotter, you will find "Three golden rules" which can easily help you out to find and judge a scam. We will also try to explain to you about the three golden rules provided by Google
Rule 1:
Firstly, they mentioned that "Slow It Down" which basically means that if a scammer contacts you through calls or emails, just don't be in HURRY and help them to gain money and lose yours.
Basically, you just need to stay calm and avoid being rushed into a bad situation.

Rule 2:
Secondly, they mentioned that "Spot Check" this means that you should go for a background check about the organization.

Rule 3:
Last but not least, they also mentioned "Stop, Don't Send" which signifies that scammers often ask you to PAY them something through crypto-currency or gift cards. So, if you are in that situation then just don't ask or say anything just hang up the call or exit the chat or ignore the e-mail and at last, put the contact details or the chatting account straight away to your block list.

Scam Spotter from Google – What's more?
To make you more informative and ready to tackle any of the scamming situations in the future. Google has now also built an "Online Quiz" where you can test your knowledge and grasp some more knowledge to prevent more such online scams.
On the site, it was also mentioned that scammers and hackers are been planning to steal over $2Billion in 2020 along with the help of the global pandemic. So, to not make that happen Google has come up with this initiative.
We would highly recommend you all to check out their website. Just to make it easy, we have provided the link to the site down below, make sure to check it out to learn how to prevent such online scams
More to read: