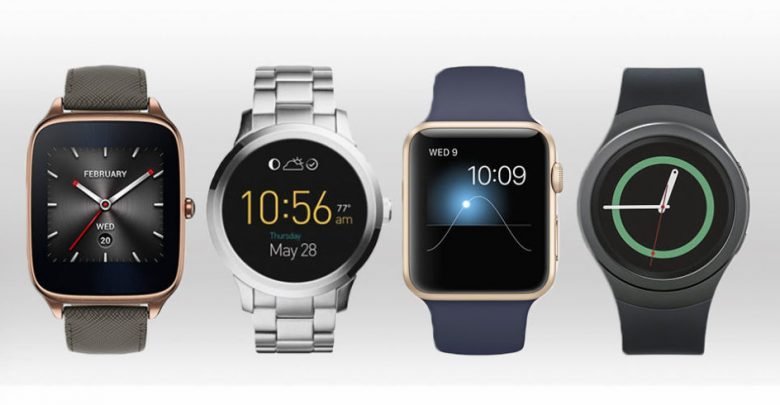 Smartwatches are rising very rapidly. Almost everyone is hunting for the best smartwatch to buy. There are people who want smartwatches to use as a fitness measuring tool as well as an accessory to wear whenever going out.
Apple Watch is one of the best smartwatches around the market but unfortunately, it only connects with Apple devices, but there are some good Android smartwatches as well. In fact, few of them even connect with iOS devices as well. So here we are bringing you the 5 best Android smartwatches in 2021.
All of the best android smartwatches mentioned below have very good hardware and the build quality is very premium. Users can wear smartwatches as everyday usage as well as for their sports fitness tracking too.
5 Best Android Smartwatches in 2021
Below is the list of top 5 Android smartwatches for your Android phone along with their specifications and features.
1. Fossil Q Gen 5 Carlyle/Julianna
Fossil is one of the leading manufacturers when it comes to Android smartwatches. As Google has already acquired fossil's smartwatch division, so it all makes sense. Since most of the Android smartwatches run on Wear OS by Google.
So the Fossil's latest smartwatch is Fossil Q Gen 5 where Carlyle stands for men's watches and Julianna is for women's watches. Both the smartwatches are identical from every aspect except the looks. The Gen 5 has three buttons including a rotating crown making it easier to navigate through the UI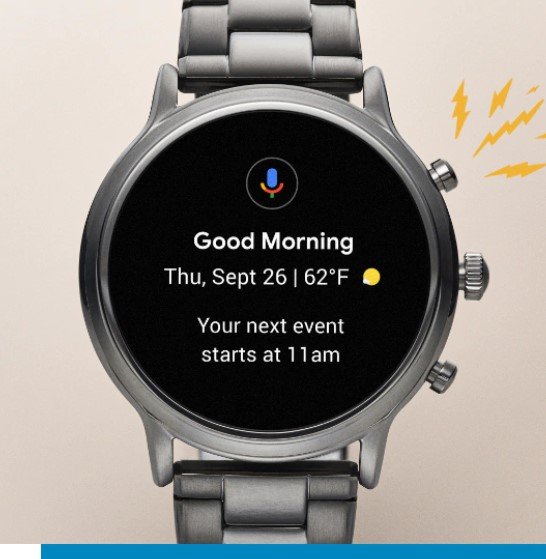 The smartwatch is powered with Snapdragon 3100 processor coupled with 1 GB of RAM and has storage of 8 GB. It is the top of the line specifications for smartwatches. The smartwatch has 1.29-inches of AMOLED display with a pixel density of 328ppi. It runs on Google's Wear OS platform so it has its own Playstore and users can download apps from it.
The watch has a built-in speaker through which you can make and receive calls from your Android as well as iOS devices which is a first in class feature.
The smartwatch comes with a fast charger and charges the watch from 0-100 percent in about an hour. It can last for a day or two depending on usage. The company also gives an option to choose from battery modes like daily, extended, custom and watch only options.
The Gen 5 has a heart rate sensor that can continuously measure your heart rate throughout the day while running or walking which the watch can also track with its untethered GPS support. It also has NFC for payments. The watch case is metal and has options to choose from for the watch bands. The watch also comes with IP68 dust and water-resistant rating. The watch is priced at $295 (Rs. 23000).
Editor's Pick: Best Android Tablets to Buy in 2021
2. Skagen Falster 3
Skagen Falster 3 was launched back in 2019. It is very much identical to Fossil's Gen 5 with a few minor tweaks. The Skagen's smartwatch division is also managed by Fossil only so the watch is running on a similar platform as the Fossil's own watches are.
Skagen Falster 3 runs on Snapdragon 3100 coupled with 1 GB of RAM and 8 GB of storage. It has sensors like GPS, NFC for Google Pay, and a heart rate sensor. The smartwatch can be charged from 0-100 percent in an hour and can last one full day.
The Falster 3 has a 42mm dial which is made of stainless steel giving out the feel of heft and premium. The screen is 1.3-inches of circular AMOLED display.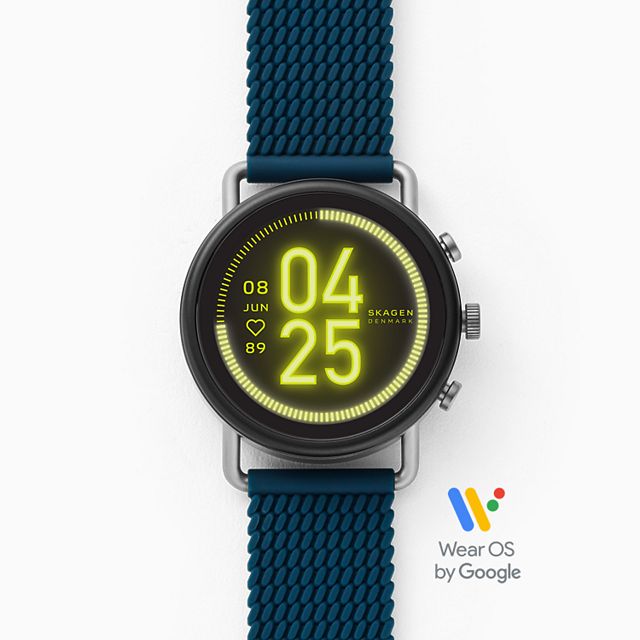 The smartwatch is IP68 dust and water-resistant and Skagen claims to be swim-proof and can even measure your workout during swimming. The smartwatch comes with a 22mm interchangeable watch straps. Skagen offers silicone, gunmetal, and a leather option to choose from.
Falster 3 also runs on Google's Wear OS platform having Android 9.0. The watch has three buttons including a rotating crown making it easier to navigate through the UI. The catch is priced similar to Gen 5 at around $295 (23000/- INR).
3. Mobvoi TicWatch Pro
Mobvoi has been into the smartwatch for a long time. Mobvoi recently launched a 2020 updated version of Ticwatch Pro. The Ticwatch Pro has some unique features added to it to give you a good smartwatch experience.
Starting with its circular dual-layered 1.39-inches of display which means that the smartphone has two layers of display one to show only the time and the other one is the main display which uses AMOLED technology and runs Google's Wear OS. This technology can give you a battery backup of around 2-5 days from its 415 mAh of battery. The case of the Ticwatch Pro is made up of Carbon Fibre making it light and durable.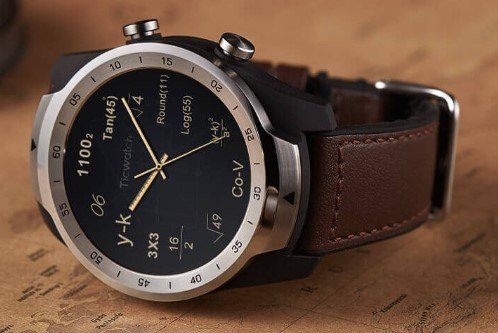 The watch has an older Snapdragon 2100 processor with 1 GB of RAM and 4 GB of storage. It has NFC for Google Pay and GPS to track your fitness routes or use Google Maps for navigation. The watch also has a built-in speaker to make and receive calls from the watch itself.
Also Read: How to play PUBG Mobile on PC
The TicWatch Pro has an essential mode which lasts up to 30 days in which the watch only shows time and tracks the workout sessions. The watch has a premium feel while wearing it but Mobvoi isn't a brand that can be blindly trusted. Though the pricing is also very less when compared to other smartwatches as currently, it is selling for $160 on Amazon.com
4. Fossil Sport
The Fossil sport was launched back in 2018. But it is still a solid smartwatch since it has almost all the hardware which the latest smartwatches have. The Fossil sport was one of the first smartwatches to be launched with Snapdragon 3100. Though it has 512 MB of RAM and 4 GB of storage. But the latest processor adds to its better battery backup.
The Fossil sport runs Android Wear OS by Google. Recently it got an update after which the smartwatch has identical OS to it's elder sibling Gen 5.

This smartwatch was made for sport-centric people as the case is made of plastic and the strap is made of silicone. Making it the lightest smartwatch out of all. The smartwatch is IP68 dust and water-resistant. The silicone strap makes it easier to work out as it manages the sweat easily. The smartwatch has a 1.2-inch of circle AMOLED display with a resolution of 390×390.
It also features a built-in GPS for fitness tracking, a heart rate sensor and NFC for Google pay payments. Unfortunately, the smartwatch lacks the built-in speaker for calling which the other smartwatches have. But on the other side, the watch is lightweight and the price is almost half of what others are selling for. You can get the Fossil sport for around $100-145 on Amazon.com and around Rs.10000 from Amazon.in
5. Moto 360 (2019)
A company called eBuyNow resurrected the legendary Moto 360 smartwatch. Moto 360 smartwatch was one of the very first watches to run Android OS on a wearable. Its successor never came until now. But recently Moto 360 was launched with updated specifications and a new design.
The updated Moto 360 looks very much stunning and the hardware is also top of the line. The Moto 360 has a stainless steel casing along with a rotating crown and 2 buttons.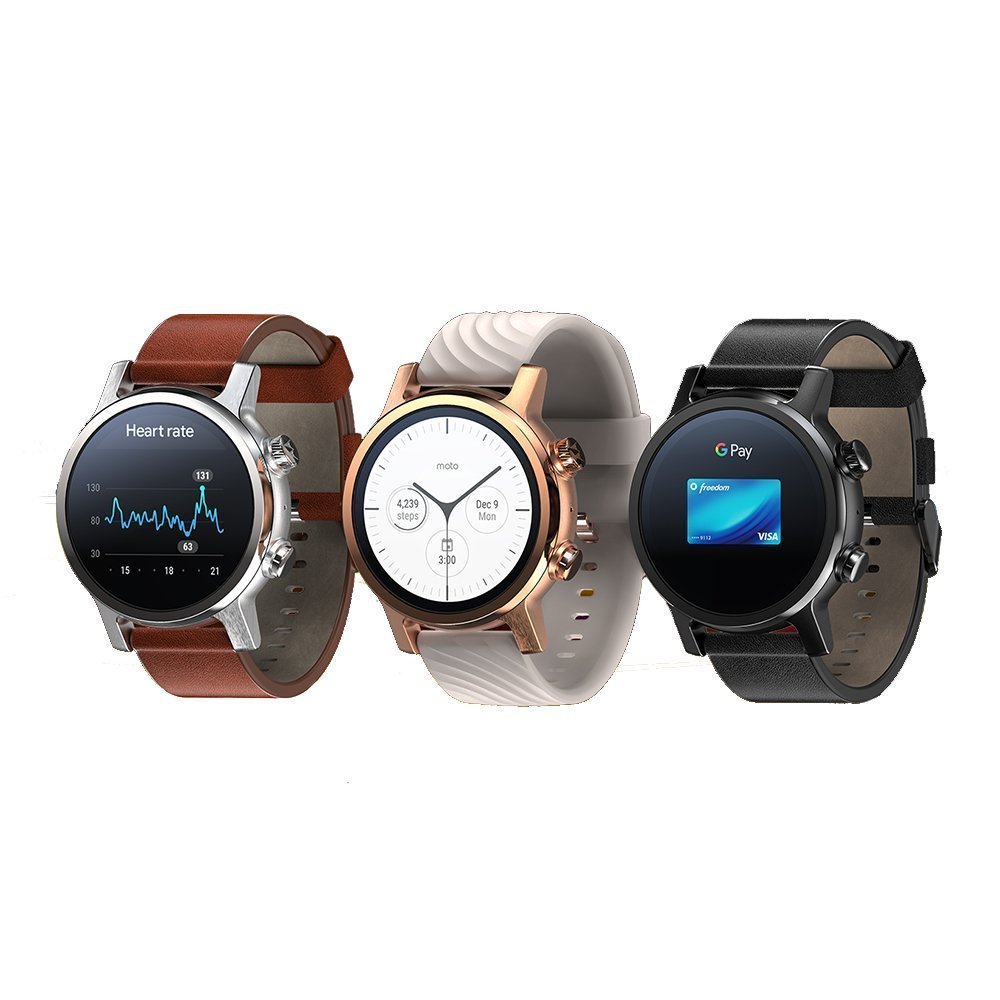 Moto 360 is powered by Snapdragon 3100 along with 1 GB of RAM and 8 GB of storage. The company claims that it can charge from 0-100 percent in 60 minutes approximately. The watch has 1.2-inches of circular AMOLED display and to protect it has Corning Gorilla Glass 3.
It is rated for 10000 swim strokes meaning that it is water-resistant. The smartwatch is running Google's latest Wear OS for wearable based on Android 9.0. For connectivity, it has Bluetooth 4.2, Wi-Fi b/g/n, NFC, GPS. The watch has a 20mm strap which can be swapped with any other compatible straps.
The Moto 360 smartwatch comes in three colors- Rose Gold, Steel Grey, and Phantom Black The watch is priced at $299.99 in the US. The watch has a very premium look and it certainly deserves the Moto 360 tag from its ancestor OG Moto 360.
Honorable Mentions
Apart from the above list of best Android smartwatch 2021, there are few honorable mentions that I would like to add in the list starting from Samsung Galaxy Watch Active 2 and Galaxy Watch. Secondly, I would like to add Huawei Watch GT 2e. These smartwatches don't run the Google's Android wearable platform instead they run their own OS. The Galaxy watches from Samsung run its own Tizen OS while the Huawei Watch GT 2e runs its own EMUI OS.
More to read: