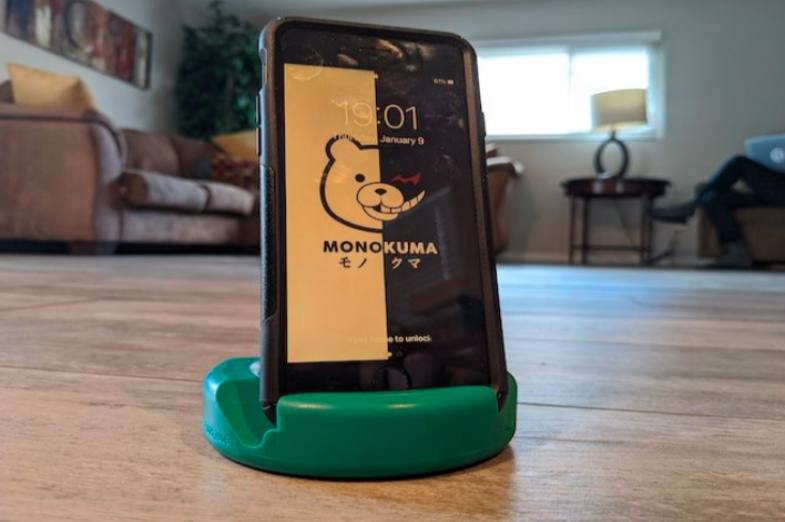 ---
Can you think for a moment about living without a mobile phone? It is quite impossible to live without a mobile phone. Because we all entirely rely on a smartphone for almost everything.
We use mobile phones to make calls, send messages, watch movies or shows, gaming, video conferencing, and many more things. But the problem is holding it for a longer time can cause pain in your hand.
That is why you need a device that can hold the mobile phone also can provide the desired angle. I am talking about GoDonut. No, it's not a dessert item; it is a phone or tab holder. You can see GoDonut review to know about this product in a better way.
What Is Godonut?
It is a little, handy, and easy to carry a device to hold a phone and tablet. The shape of this product is like a donut with two cutouts that can fit the devices. You can watch videos, read anything, video calls without holding a phone by using your hand. Any brand's devices can perfectly fit in GoDonut.
Editor's Pick: 5 Best VPN Service to Use in 2020
Its universal compatibility assures it to work with almost any device. The simple design makes it easier to use no matter where you are. With high quality, this product assures durability, waterproof, very handy to carry wherever you go. It is weighted enough to hold the phone or tablet from flipping over.
How Does it Stand Out?
It does not require any installation; just place the device in it anywhere. Then adjust the perfect angle for you. You do not have to follow any process to assemble this device. It is made from Thermoplastic Elastomer, which allows fitting any cell phone in it.
You don't need to worry about big sized devices. It is flexible enough to fit anything. For big-sized devices, try a 70° angle because they may not be able to fit at 45°.
It allows you a comfortable view of the phone or tablet in three different positions. This device can turn a 360-degree radius and ensure the perfect position of your phone. GoDonut is great for students, cooks, office use, digital note-taking, front desk sign-in, displays for a convention, small business holders, and many more applications.
Features of Godonut
This little and versatile device has multiple features that make it worth buying. These are:
Design & Construction
It comes in an extensive arrangement of colors and designs. It comes in a stiff component that is why this product lasts long. Its size is so small and round-shaped that you can carry it anywhere. The package sizes are 5.8 x 4.2 x 1.3 inches.
There are six different colors available, such as jet black, cherry red, lime green, hunter green, pink, and purple. The best part is, it is washable. Put it in a dishwasher and then dry it.
Angle Support
The unibody design allows putting the phone in three different viewing angles. You can choose from 45°/70°/90° angles upright. These three angles can be viewed in portrait and landscape mode. Portrait mode is idle for reading, typing, web browsing, and video chatting. Landscape mode is idle for watching videos, playing games, and more.
Durability
For any kind of big or small amount of investment, the main key is durability. What is the point if you have to go to retailers to fix a product over and over? Luckily, with GoDonut, you won't face this type of hassle. Its rubber-like material enhances its durability.
This product can hold up to 33000 pounds. So, there is no doubt about its sustainability. GoDonut is a non-slip, toxin-free, heat resistant, BPA free, waterproof device. Your device will be 100% safe with it.
Utility
With the help of this device, your hand will feel free. Other works can be handled by standing the phone up next to you. There is a minimum risk of a device to fall down because it can keep the device in a strong position.
Now, you can cook by watching recipes on YouTube while keeping the phone or tablets in it. GoDonut is extremely compact and portable. You can put on as much weight as you want. It is recyclable and environment friendly.
Why Is it Important?
These days smartphone becomes everything for us. We don't use it just for calling. We do online classes, drawing, video calls, facetime, watching tv, and whatnot. Moreover, we become so busy that it's necessary to do multitasking. So, you can't hold a phone all time.
Don't lose hope, GoDonut will help you by holding the phone. The best thing is that there is no need to hold your phone anymore. Do online classes, cook by watching recipes, go for video calls while doing other work. This small device will make you able to do multitask
Is it Safe for a Mobile Phone?
You have to be confident enough before buying something for your mobile phone. Phone stands are not as expensive as the phone. But a phone's safety depends on this little thing. GoDonut has a flexible but rigid construction. With TPE, it can assure the perfect fit of your phone.
It is absolutely free from dioxins, Bisphenol-A, lead, PVC, phthalates, and other notorious material that can harm your mobile and health. Your phone or tables will stay still all time. There is no fear of the phone's falling down. So, undoubtedly, GoDonut is 100% safe for mobile phones.
Conclusion
With the constant evolution of gadgets, our life becomes much easier. The most essential thing is to trace out the best gadgets among all the different products for us. GoDonut is one of those best products that we have. Everyone should use this device.
Someone who uses a smartphone and has to do multitasking makes it hard to imagine that they do not have GoDonut. It's excellent materials, cost-effectiveness, simplicity, waterproof, flexible nature, no hassle for installation, and many more make this device quite popular. So, go and grab this device to make the best use of it.
---
More to read: