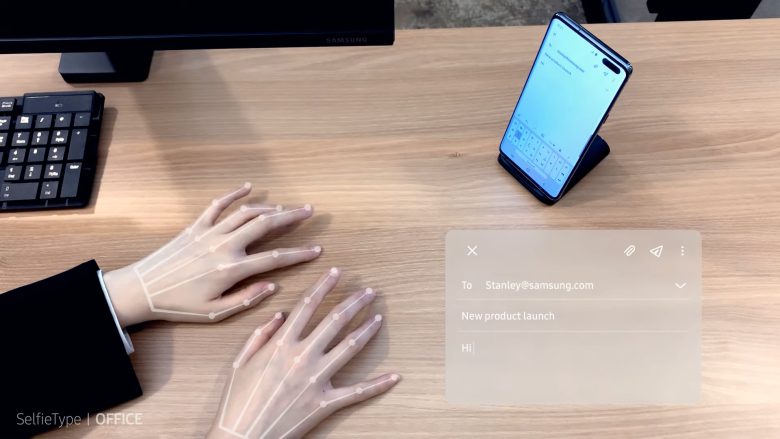 Those were the days when we had to press buttons to type anything on our phone. Then we got transitioned to the all-new way of interacting with our phone, Touchscreen.
With the popularity and adaptability of the touchscreen, our lives got much easier than before. Still, Samsung thinks that a new way of typing should be in place to make it more convenient.
SelfieType, the AI-powered keyboard from Samsung's under-development project under the C-Lab program, is the fascinating and attention-grabbing technology that the South Korea based company has unveiled in CES, 2020 in Las Vegas.

How does SelfieType work?
According to present development, SelfieType uses Artificial Intelligence (AI) and phone's selfie camera to track the movement of your hands and fingers over the invisible keyboard that lies in front of you which is only visible to AI.

All you have to do is position your phone in front of you and place your hand on the surface and start typing as you type on the keyboard. The movement of your fingers will be tracked by the AI using phone's selfie camera and it will convert the input into keystroke and the desired result is displayed on your screen.

It is somehow similar to the laser-based projection keyboards which does the same task but its accuracy level is quite low and you have to carry the cumbersome hardware to make it operational.
Also Read: TCL to launch smartphones under its namesake
When will SelfieType launch?
Although Samsung did not disclose any date for the launch, it is still in the demo mode. It is also believed that Samsung may release it as an update to its Galaxy series devices. Whatever may be the timeline of launch, SelfieType is intriguing due to its promising features.
More to read: