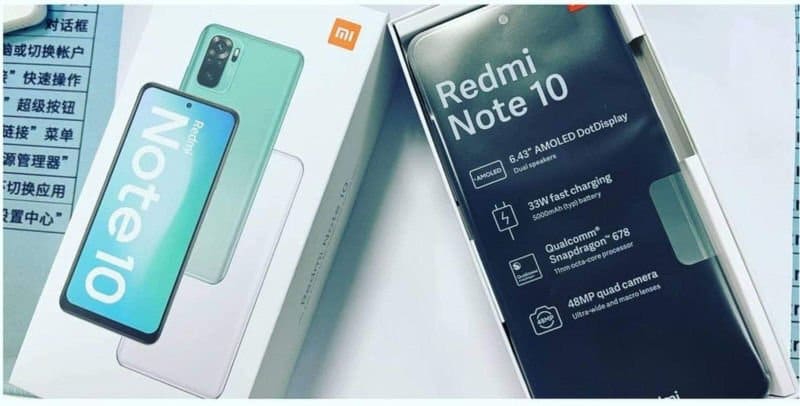 ---
With just a couple of days away from the official unveiling, Redmi Note 10 is having plenty of leaks pouring out. The latest one showing the phone's panel and packing box revealed the phone's charging technology, display, and chipset information. Here's everything about it;
Redmi Note 10 key specs leaked ahead of launch
Xiaomi's spin-off brand, Redmi is no way lesser than its parent company. The Chinese OEM is now gearing up to launch the next Note series, Redmi Note 10 soon. While the official launch was scheduled for March 4th, several specifications about the phone have already been leaked. Here are they;
Starting with the display, the Redmi Note 10 is touted to sport a 6.42″ super AMOLED display with a punch-hole display design. While it's earlier reported to be coming with a MediaTek's Dimensity chip, it's now leaked to come with a Snapdragon 678 SoC. This is a slightly tweaked version of Snapdragon 675, with clock speeds of up to 2.2GHz based on the 11nm process.
While it's reported to have a 108-megapixel lens earlier, we don't expect the mid-ranger to show up with such a huge sensor. While these will be confirmed on the date of launch, one more confirmed feature is the battery capacity and its fast charging technology. It's said the phone to come with a 5,000mAh battery with a 33W fast charging support.
This marks the Redmi Note 10 to be the first non-Pro Redmi variant to have such big fast charging rates. Also, it's reported to have two speakers, one of which is a grilled one placed at the bottom beside the charging dock, and the other to be the microphone above acting as a secondary speaker.
All these would be confirmed officially on March 4th, when Redmi announces this handset and talks about the possible Pro variant.
---
MORE TO READ