The world's largest mobile event, Mobile World Congress, has been canceled due to the fears of coronavirus.
MWC was scheduled to take place between February 24th and 27th in Barcelona.
GSMA ( the organizer of the event) released a statement on February 12 to formally call-off the event which is considered as the largest event of mobiles.
" With due regard to the safe and healthy environment in Barcelona and the host country today, the GSMA has canceled MWC Barcelona 2020 because the global concern regarding the coronavirus outbreak, travel concern and other circumstances, make it impossible for the GSMA to hold the event. " said GSMA in the official statement.
If the event would have taken place, it would have attracted footfalls of more than 100,000 attendees.
Editor's Pick: WhatsApp hits 2 billion active users worldwide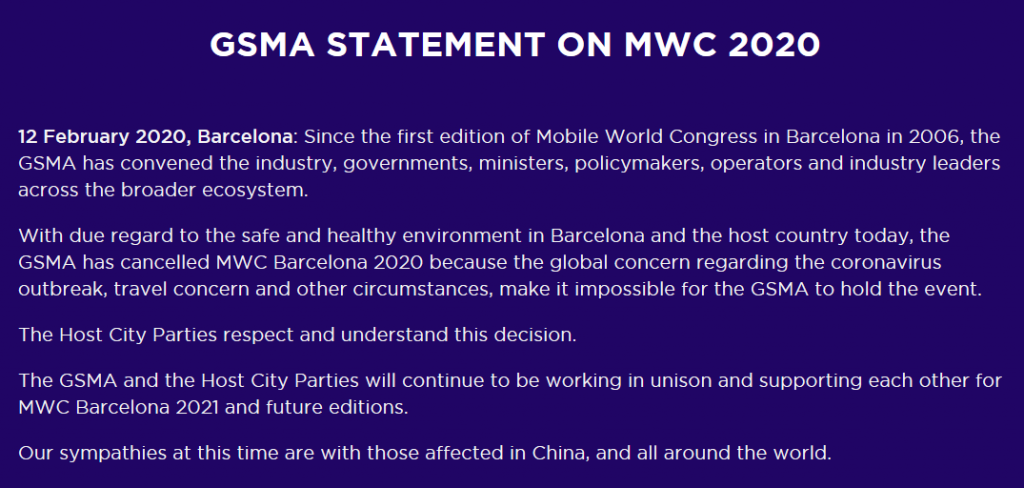 Although, many top tech companies like Facebook, LG, Sony and more pulled out of the conference in recent weeks.
GSMA is also organizing the event in Shanghai from June 30 to July 2, 2020.
Coronavirus epidemic took the lives of more than 1,500 peoples in mainland China.
Also Read: ZTE unveils world's first phone with Snapdragon 865