When we think about foldable phones, the very first phone that comes in our mind is Motorola Razr that was ruling the foldable phone market back in 2004 and was the slimmest phone when it was launched. Moto Razr was revamped and released again in 2007.

Now in 2019, with all the cutting edge technologies in hand, Motorola unveiled the design of Moto Razr 2019 on November 14, 2019. This variant is reminiscent of original Moto Razr phone but with a handful of advanced features and is expected to be launched in 2020.
This smartphone is the therapy to revive the old days of the original Moto Razr lover or for users with special interest in flip flop phones.
Take a quick glance of the new Moto Razr until we move on to its hands-on review and specifications
This clamshell design smartphone keeps the same form factor as with its predecessor and features a foldable 6.2-inch OLED display which company calls it "Flex View" display. It is also equipped with a 2.7-inch Quick View display which acts as secondary display to show notifications and other information when the device is closed.
The screen is "Scuff-Resistant" and protected by a stainless-steel frame. A fingerprint sensor is located in the lower bezel.
It is powered by Qualcomm Snapdragon 710, octa-core, 2.2 GHz SoC, with 6 GB of RAM and 128 GB of internal storage with no memory expansion support and runs on Android 9 (Pie). Due to its unique design which makes the scarcity of space to house high power battery, this smartphone has mere 2,510mAh Non-removable battery supported by 15W TurboPower charging through USB-C.

When we are moving forward with more fastest SoC launching from time to time, Motorola ships this device with Snapdragon 710. Still Imagining why?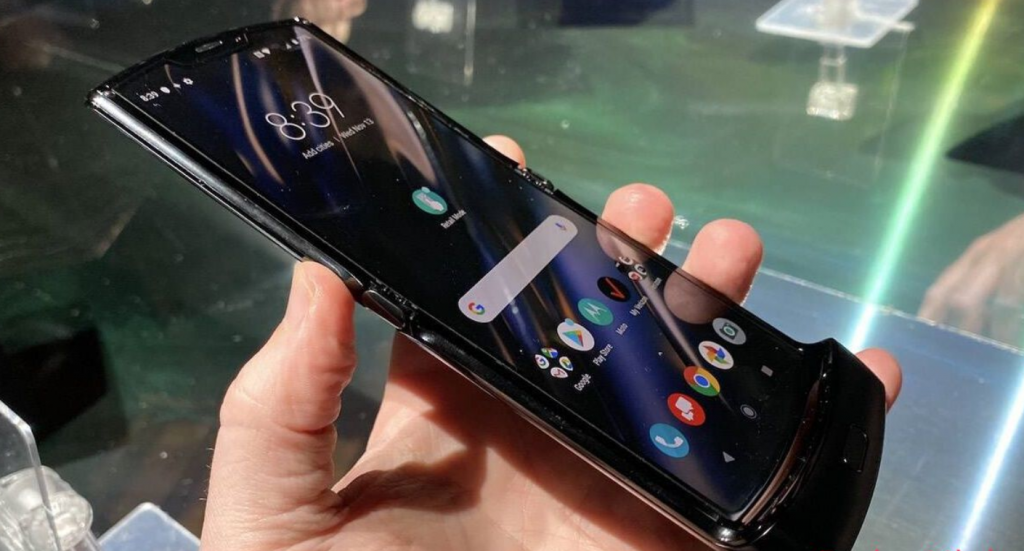 This smartphone can't be considered a selfie-centric device as it comes with 16MP rear and 5MP front camera. At the time, when Xiaomi is pondering to launch devices with 108 MP camera, Motorola has only 16 MP camera lens to fix on this device.
Imagine what, this smartphone supports only embedded-SIM (eSIM).
Yes, you can't remove the embedded SIM from this smartphone to put your little poor SIM card into it.
When the display is closed, it becomes compact and handy.
Motorola has surely spent quite a lot of time and energy to come up with its "Flex View" display, the most exciting part of the phone, which is more impressive than it seems.
"There is no display crease found on the device" claims Motorola.
What worth noticing is, that the new foldable Razr is actually of same 14mm thickness as the original Razr flip phone.
So, how the original Moto Razr looked like?
Well, have a glimpse of it below.
Almost everything got covered, right? wait, what about the price. Ok. This smartphone doesn't come cheap and will cost you $1,499 for the one and only variant (6GB RAM, 128GB Internal storage). It will be available for preorder through Verizon on December 26.
Device's in-store availability in the US is said to be from January 9, 2020, through an exclusive partnership with Verizon.
Buy it by paying outright or sign-up for a payment plan of monthly payment of $62.49 for 24 months.
Also Read: Xiaomi confirmed Redmi K30 launch date